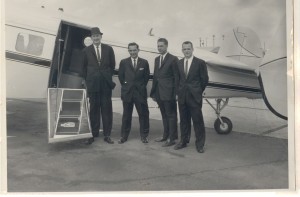 Special Services Corporation was created in 1958 as a subsidiary of the Liberty Corporation to manage Liberty's new aircraft and develop a professional aviation department to support Liberty's travel needs.   The first aircraft purchased was a 1958 twin Beech-18. The flight department was located on the north ramp of the Greenville Downtown Airport (GMU) and was purchased from Winn-Dixie Grocery Stores.   Mr. Frank Dosser was the first flight department manager and chief pilot.  Knowing he would need support for the aircraft and the importance of safety Frank added a maintenance department to the aviation operation.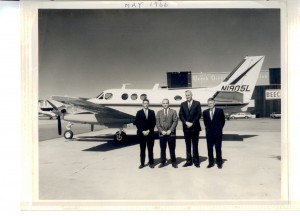 As Liberty grew, so did the travel requirements within the company. Additional aircraft were purchased in the mid 1960's.   A Douglas DC-3 was added to support more passengers for longer distances. The increased fleet offered the flexibility of long or short distances, simultaneous trips, and added passenger capacity.   As company travel increased so did aviation technology.   The availability of turbine powered aircraft offered faster, quieter, and smoother travel than previous aircraft.   To take advantage of these new capabilities, Special Services Corporation purchased a Lear 25 as its first jet aircraft and a Beech King Air 90 to replace the twin Beech.
Upon Frank's retirement, Robert Traynham was promoted to chief pilot.   His leadership continued through 1985 when Jim Alexander was picked to lead the flight department.   Through Jim's vision, in 1999 Special Services obtained FAR 135 Air Carrier Certification.   The charter certificate has been used as a tool to grow the flight department into a revenue producing company through aircraft charter.   SSC's primary, bottom-line objective was to reduce the cost of flight department operations and expanded its aircraft maintenance services to outside customers.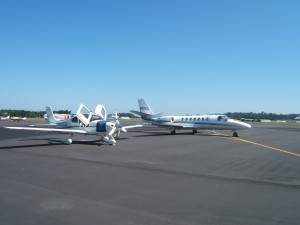 In 2002 and 2003 Eric Groves and Brad Searls joined SSC and make up the current management team.   In 2006 the management team purchased SSC from the Liberty Corporation and now SSC operates independently.   SSC provides aircraft operations, maintenance, and management services from single engine aircraft to jet aircraft, and offers the full amenities of a professional flight department at a part-time cost.   Our long experience offers expertise that extends into aircraft maintenance, aircraft charter, aircraft purchases and sales, and all inclusive aviation management.
Safety has always been a priority at Special Services.   In recognition of our efforts since our beginning, the National Business Aircraft Association presented Special Services with the 50 Year Safety Award in 2008.   Today, the SSC exclusive facility remains at the Greenville Downtown Airport making SSC the longest tenant on the field.   As the years have progressed, Special Services has operated, managed, purchased, and sold many different aircraft let our expertise and safety go to work for you.