Custom VIP interiors – for cars and planes!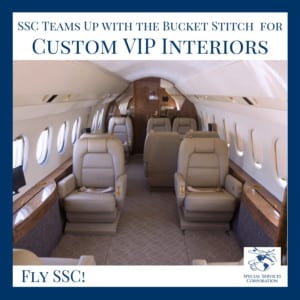 Special Services Corporation
is known
for taking excellent care of its customers. Part of that involves fulfilling special requests.
 The South Carolina
aircraft
charter, maintenance and management company is well known. But many of their customers do not know that they also provide custom interiors. They do this by working with a local artisan upholstery shop.
The
aircraft
maintenance team at SSC's maintenance facility work with local artisans. They use the Bucket Stitch of Greenville, South carolina to renew
aircraft
interiors.
Some of the services available include:
Side panels and headliners
Custom fabric, leather and sheepskin work
While every
aircraft
is special, some interiors need to look good while serving specific purposes
.  Owners of business
aircraft
may need to carry equipment for work or recreation.
"One of the main reasons people use private aviation is convenience, and to get where they're going with a flexible schedule and with all their gear," said President Doug Goldstrom
.
"Hunting, fishing, SCUBA gear, industrial equipment, you name it, we've
probably
seen
aircraft
owners that want to carry it
!"
Custom VIP interiors are not
just
for posh vehicles.   One client has an
aircraft
that carries construction crews to work sites.  Dark carpet and seats in durable materials keep the interior looking new.
All materials used in
aircraft
need to
comply with
FAA regulations for flammability and other concerns
. 
SSC and Bucket Stitch team members work together on projects.
To
satisfy
private aviation customers, they need to ensure the best quality and suitability of materials for each job
. They also ensure their compliance with aviation regulations.
"That's important for your resale value," said Goldstrom.  "You may have a gorgeous interior that is perfect for your airplane.
But if it doesn't have all the documentation that the materials used were legal, that will hurt your resale opportunities
. "
Their customers
truly
appreciate their work – they have a five-star rating on Yelp and Google Reviews
.
When not working on
aircraft
, the Bucket Stitch is famous for custom work on vintage automobiles like this 1947 MG
.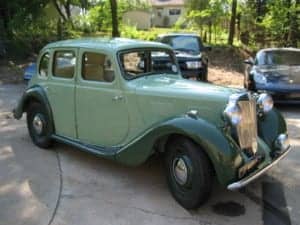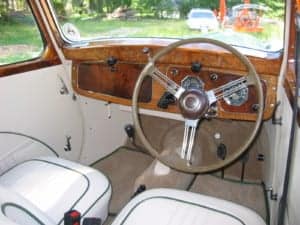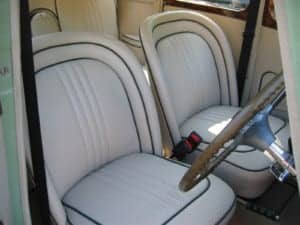 "DeWayne is the nicest person to deal with and goes the extra mile.  Their work is top notch, I would rate it concours.  I had my convertible completely reupholstered and a new top, it turned out great.  All the ribs
were painted by
DeWayne and he polished every piece of stainless before it
was put
back on.
I never asked him to do any of the stainless.
He
just
took it upon himself to do that because he is a perfectionist and is a stickler for returning everything to factory
."
Special Services Corporation (SSC) started as Liberty Life Insurance company in 1905 and later became the Liberty Corporation
. The Stevens Textiles (the former parent company of Stevens Aviation) shared airplane services. 
  To meet demand, and that of other local companies, the company that later became SSC acquired and managed
additional
aircraft
for
additional
clients, and began providing charter services
. 
  Over the years, SSC has operated, managed, purchased and sold many different
aircraft
including a Lear 35, Citation II, Citation Encore, KA-200, Cheyenne IIXL, Cheyenne IIIA, King Air and Cirrus SR 24
.
Today, SSC is the longest tenant at the Greenville Downtown Airport (GMU) and offers an array of charter, maintenance, management and other aviation related services
.
They specialize in helping individuals and companies use private aviation as a competitive advantage
data-offset-key="4mo33-17-0″>.
About The Bucket Stitch
The Bucket Stitch was started in 1975 by Doug Marsceau, the oldest of four brothers.   DeWayne, being youngest brother of 4, started hanging out and learning to take seats apart at age 14 in 1976. The other brothers worked for a period of time before moving on to other careers.  DeWayne remained and along with his wife, Lisa, took over the business in 2003.   DeWayne's experience includes convertible & vinyl top replacements, custom & classic restoration interiors, general auto seat, headliner & carpet repairs, motorcycle seats, window regulators, convertible hydraulics, upholstery work for architectural display firms.
Brother Dan, who has a talent for sewing straight, was recruited to come back to work with the Bucket Stitch after retiring from the SC Highway Patrol.  Mike McCurdy, joined the company this year.