A Longwoods International survey of United States travelers indicates that 86 percent of travelers signaled that they plan on visiting a U.S. domestic destination once pandemic-imposed restrictions are lifted. Four percent said they'll opt for an international trip and two percent said they'll keep it local, planning a staycation near home. Only eight percent responded that they intend no travel within the next six months.
"Despite the pandemic, Americans are eager to travel, especially to spend time with family and friends," said Amir Eylon, President and CEO of market research consultancy, Longwoods International. "The vast majority of Americans will make their first trip after the pandemic in the U.S., with only four percent planning international travel as their first destination."
https://www.travelpulse.com/news/impacting-travel/the-first-place-most-americans-plan-to-travel-after-covid-19.html
Criteria
Lack of crowds
An emphasis on outdoor activities
Things to do for families
Easy to get to
#1 – Wherever your family is!
Fly into the nearest small municipal airport (no need to visit a big international airport!)
Over half of American travelers want to make their first trip (once it's appropriate to travel again) a domestic visit to reunite with friends and family, following so much self-isolation.
"It's easier for us to travel than it is for our kids – they're just starting on their careers, getting roots into their communities, and so on. So we like to go where they are."  Said Paula Williams.
"One of our kids is in Denver, the other in Las Vegas, and another in Silicon Valley, so those are all great areas to visit. We want to see what's going on in THEIR lives, meet their friends and neighbors and co-workers, visit their workplaces, see where they spend their weekends, where they hike, and where they shop.  We're nosy parents."
There are several free or paid apps and sites which will show the nearest trails and parks.  For all of the US, we like AllTrails.com, which includes a mobile app, photos, reviews from other hikers/bikers and outdoors enthusiasts.
#2 – Peace, Quiet, Scenery, Bikes and Golf in Hilton Head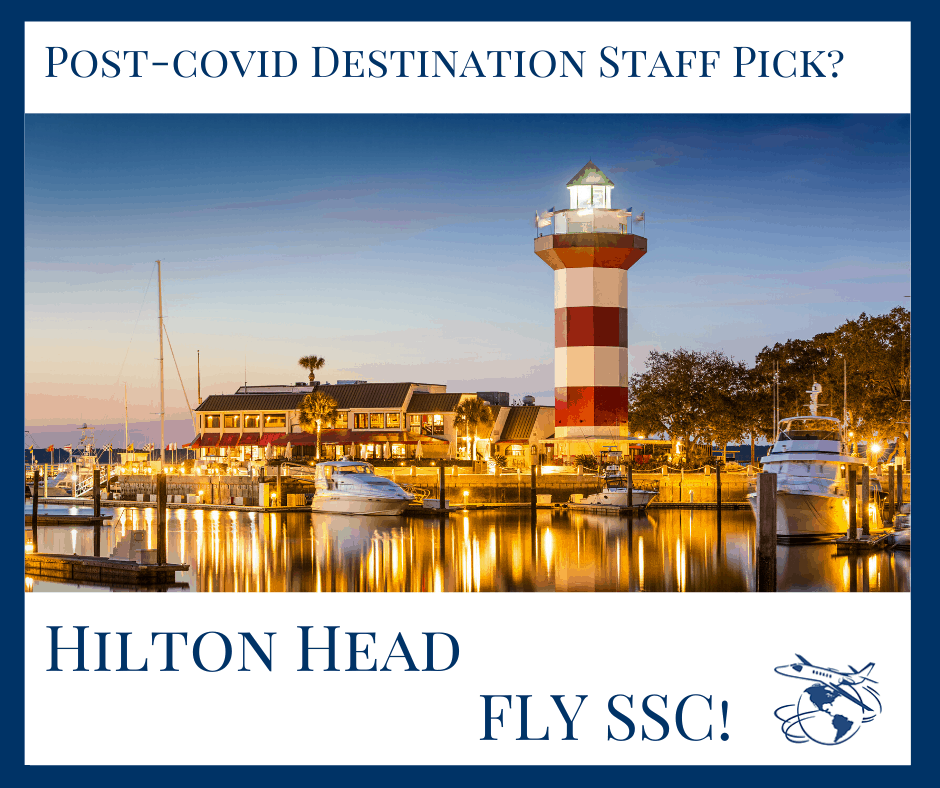 If you're looking for nightlife, this is not the place to go," said Doug Goldstrom, President of Special Services Corporation.  "When you hear someone say, 'there's nothing to do there,' some people think, 'oh, how boring.'   Other people think, 'That's perfect!"
The Goldstroms enjoy the beach, riding bikes, and golfing.  Water sports, bicycling and hiking are popular. There are historical sites wildlife tours, but crowds are small.
The island is also famous for lowcountry cuisine like oysters, peel-and-eat shrimp, and peach cobbler.
https://www.hiltonheadisland.org/
#2  Branson, MO.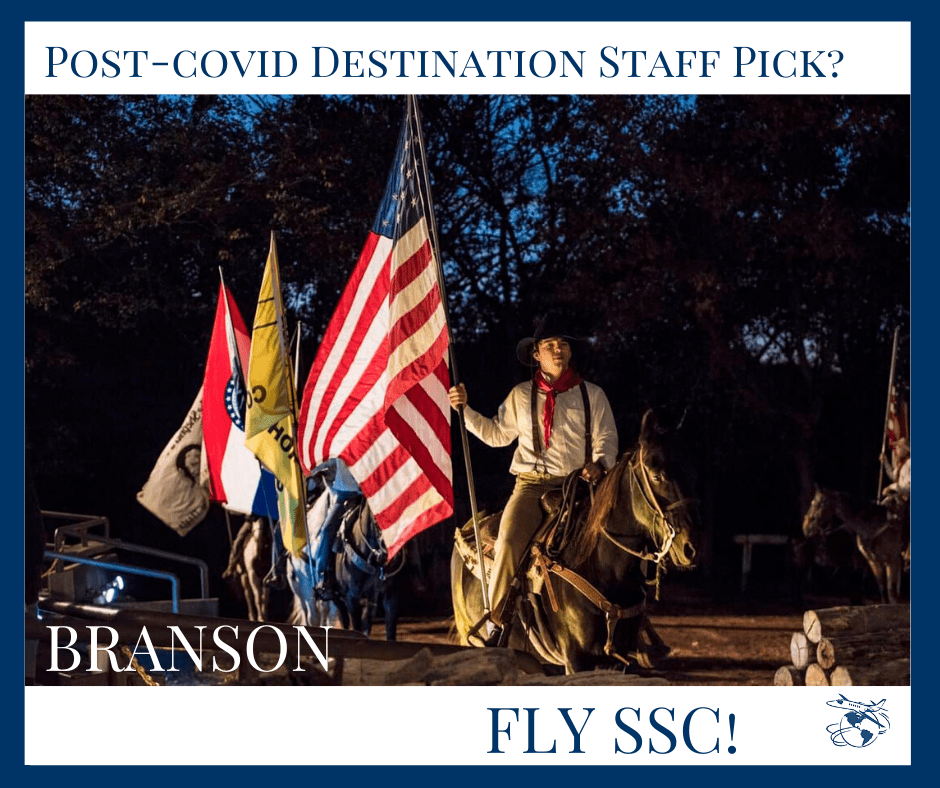 Branson is committed to restoring tourism in the safest possible way – "Believers" are posting their experiences on #believeinbranson hashtag on social media.
Branson boasts Ozarks scenery with lots of outdoor activities – kayaking, canoeing, paddleboarding, golf, hiking, go-carts, bumper cars, laser tag and water tubing.
And Branson is world famous for theatrical productions, concerts,  shows and events, some of which occur outdoors!
#3 Park City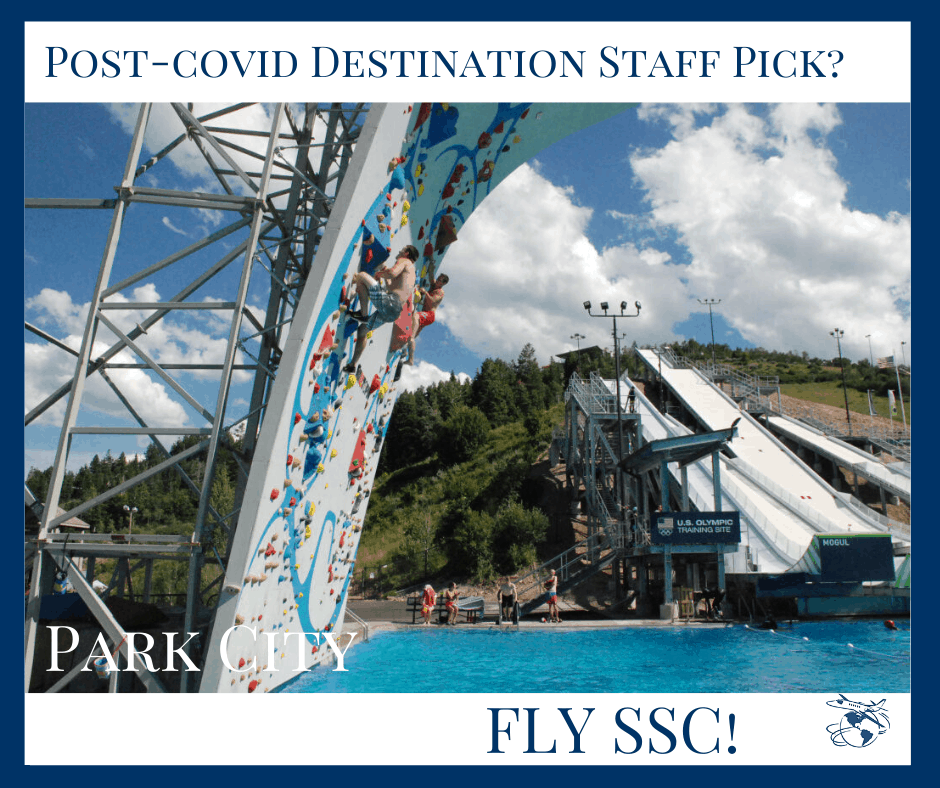 Back in early March there was a small but famous outbreak that caused quick action in this ski town, which is now classified as a low-risk location,  a low-risk state.
Private Aviation is directed to one side of this new, international airport – away from the large busy commercial terminal, to the short 40-minute road trip to Park City.
This 2002 Winter Olympics venue is a little-known summer refuge from the heat. The high altitude and alpine scenery are a welcome respite from a humid city.
The ski gondolas and runs become scenic tours, ziplines, mountain bike trails, bridle paths and an alpine slide in the summer.  The Olympic bobsled run is now available to tourists – And the lift lines and celebrity-spotting crowds from Sundance Season are replaced by a much more mellow Kimball Arts Festival in August.
Scenic drives and nearby state parks abound, as well as high-end shopping, particularly for unique Canadian, Alaskan and western tribal furs, beadwork, jewelry, clothing, paintings and photography.
Park City and nearby Deer Valley resort boast MANY high-end and casual restaurants.
All This Will Change Throughout the Summer!
The situation, including conditions and restrictions at ANY destination, including the places we highlighted here, are rapidly evolving.
We've learned many things from 2020, including these:
When you have an opportunity to (safely) spend time with family or friends, take it!
Airline travel, even first-class airline travel is not as attractive, due to the large crowds at airports, shared cabins, uncertainty about cleaning processes and delays.
It's important to be flexible, and to work with travel professionals who can quickly adapt to changes in plans.
Contact us today to find out how we can help make this summer a memorable one for YOUR family!