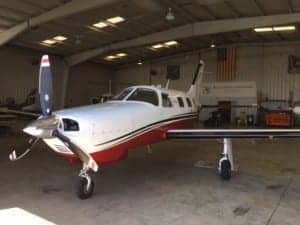 SSC is pleased to announce that a Piper Mirage has been added to our managed fleet.
Local fitness company 9Round has selected SSC to manage their aircraft via FAA Part 91 rules.
It will be on our Part 135 Charter certificate within the next few months and available for passenger charter.
The Mirage has a 1000 NM range (varies depending on load, winds and other factors) and is perfect for trips with 4 or 5 passengers, with versatile luggage capacity.
Larger than the Cirrus SR22, but smaller and more economical than a business jet, the Mirage is perfect for:
Sports fans to get to regional games
Golf & fishing trips
Customer site visits
Business trips
Give us a call at 866-242-3383 and let's talk about your upcoming trips!
About 9Round:
9Round is a specialized fitness center for people who want a unique, fun, and proven workout that guarantees results. 9Round offers a kickboxing themed fitness program that incorporates a functional, interval, cardiovascular, and circuit training regimens. The programs consist of a proprietary system of nine challenging workout stations developed by a World Champion Kickboxer.
Stay tuned for more information about the Piper Meridian, and about this innovative local business!