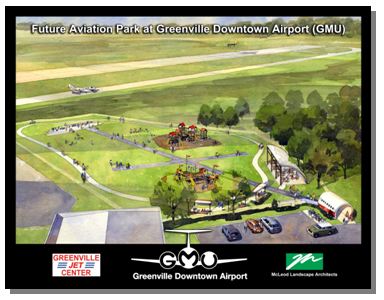 Last fall the aviation themed public park opened on the grounds of the Greenville Downtown Airport. The park includes a large green space, walking trails and an amazing amphitheater with fantastic views of the taxiway and runway. Future additions, as money permits will be playground equipment for 2-5 year olds, playground equipment for older kids, a picnic pavilion, and a control tower climbing structure. Thanks to the generosity of GE and two grants get ready for some new additions as more pieces fall into place.
Last month a 15 foot section of a Boeing 737 fuselage arrived and will be modified and used as the parks entrance. This piece was donated to the park by GE. As you can imagine there were a lot of steps to get this fuselage to Greenville. GE generously donated the fuselage and the manpower to cut it and get it ready to ship to Greenville. The fuselage is being modified by Greenville Tech's Aircraft Maintenance Technology Program and is doing this at no cost in a donated hangar from Greenville Jet Center. It is amazing to see how all the pieces have fallen into place and the huge generosity of the people involved are making this possible. The idea for the park can from the airports own Public Relations Director, Lara Kaufmann. The open green space was conceived to fill a void since over 10,000 school children a year can no longer visit the local commercial airport, GSP, due to security changes since 9/11.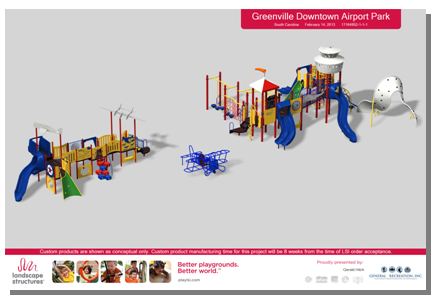 The grants will allow the playground equipment for the 2-5 year olds to be added. This equipment has been ordered and should be installed and ready by the end of May. The other equipment will be added as money allows. A great opportunity to get involved with this project and the community was also held on May 25th. The event will be the Take Flight 5k. Participants ran or walked right down the runway at the Greenville Downtown Airport and all the proceeds were raised for the benefit of the park. On May 4th the second annual "Party down for the Playground" was held. This party  featured 80's music here at the Downtown Airport to raise money for the playground equipment and picnic pavilion.
If you'd like to assist, Contact Lara Kaufmann at [email protected] . For more information about the upcoming events or to see updates on the park go to the Greenville Downtown Airport website at www.greenvilledowntownairport.com . The park has been a fantastic addition to our local airport.