The Cirrus SR22 GTS is a  single-engine, originally four and later five-seat, composite aircraft, built by Cirrus Aircraft starting in 2001. It is a more powerful version of the Cirrus SR20, with a larger wing, higher fuel capacity, and a 310 horsepower (231 kW) engine. It is extremely popular among purchasers of new aircraft and has been the world's best-selling single-engine, four-seat aircraft for several years.  Like the Cessna 400, but unlike most other aircraft in its class, the SR22 has fixed (non-retractable) landing gear. The service ceiling is 17,000 feet, and the cruise speed is a zippy 211 MPH.
All the automation in this luxurious single-engine aircraft is designed to give the pilot more time and attention to focus on situational awareness and navigation.
The aircraft is perhaps best known for being equipped with the Cirrus Airframe Parachute System (CAPS), an emergency parachute capable of lowering the entire aircraft (and occupants) to the ground in an emergency.
Range of the Cirrus SR22 GTS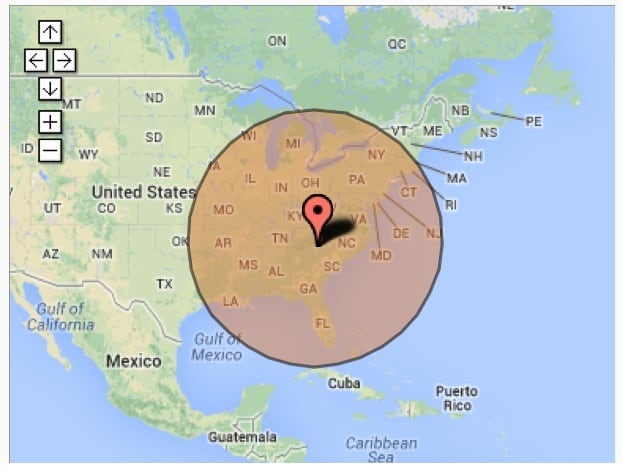 The Cirrus SR22 is a very economical choice for charter, and it's fast cruise speed covers an impressive range for its size, including east and north to New York, along the Eastern Seaboard, south to parts of the Caribbean, east to New Orleans and north through Arkansas, Missouri and parts of the Great Lakes region without a fuel stop.
Its advanced electronics provides outstanding situational awareness.
It's a great choice to get where you need (or want!) to go efficiently.
Why Charter this Cirrus SR22 GTS?
Seating for up to 3 people
Range of up to 800 miles
Cruises at 200 MPH
Onboard weather radar & entertainment radio
Low cost efficient transportation option
Discounts Available
50 Year Safe Flying Award
Experience – In business since 1958
Convenience – privacy, security, schedule flexibility
Thousands more airports served than the airlines
Conserve one of your most valuable assets – Time
Maximize productivity
Frequent Flyer Programs
Access to all aircraft types