Our Favorite 26 Holiday Destinations for Charter Flights
Many families have holiday traditions that start well before Thanksgiving. And while "home for the holidays" has a certain nostalgia to it, travel for the holidays can be just as nostalgic – we watch the 1954 classic movie White Christmas that has Danny Kaye, Bing Crosby, Rosemary Clooney and Vera Ellen take a train from Florida to Vermont; and an entire regiment of former soldiers traveling for a reunion at an old ski lodge.
While your group may be somewhat smaller and less famous, it is no less important.
"It's just about impossible to get our kids together for the holidays, they're all just starting careers and don't have as much flexibility as we do, so we go where they are, or meet somewhere for most holidays." Said  Marie Anderson, the mother of three grown children. "We like to go somewhere that has fun things to do for all the kids, spouses, and grandkids. That way they really look forward to getting together."
"Of course travel isn't quite the glamorous adventure it used to be, with long lines and security at the airports. And we don't want to spend the whole time in the car. We get so little time together as it is."
Private flights are a great solution – you can make it a tradition to go Christmas shopping with your group, enjoy a concert or a show, and fly home (with your wrapped presents!) – on your own schedule.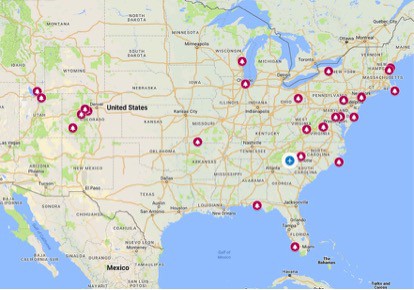 We've compiled a list of our own favorites and those of Fodor, Tripsavvy, and others. We've group them based on the style of holiday trip that suits your preferences! Whether you're looking for a sophisticated city for shops and cultural events, a charming small town for a quiet, traditional holiday, or a snow-filled ski vacation, there are many great options!
Sophisticated City Destinations
If your holidays include shopping, concerts and performances, and sumptuous restaurants, then include a city trip in a new (or old) holiday tradition with your family or friends.
New York City
Who wouldn't love a trip to New York City during the holidays! There is usually snow at Christmas, and some must-see destinations for lights and windows including
Rockefeller Center Christmas Tree
Patrick's Cathedral
Saks Fifth Ave
Macy's Herald Square
Barney's
Lord and Taylor
Bergdorf Goodman
Tiffany and Co.
Radio City Music Hall
Most of these destinations have their own traditions, such as the Macy's Thanksgiving Day Parade and the lighting of the Christmas Tree at Rockefeller Center and the Radio City Music Hall Christmas concerts. There's also Broadway, the New York Philharmonic, and the New York Ballet that have Christmas programs such as the Nutcracker.
Chicago
Enjoy the Magnificent Mile for lights and shopping for modern glitz and glamour, or the Christmaskindlmarkt for wooden toys and traditional German food and drink.   Visit the giant Christmas Tree at Daley Plaza (which also has a great lighting ceremony!) and the Annual Christmas Around the World Exhibit at the Museum of Science and Industry.
Atlantic City, NJ
For an unusual holiday season, have a holiday dinner in the Crystal Room at the Chelsea, Don your Santa suit and join the "Running of the Santas" Pub Run, and enjoy New Years Eve parties galore.
Washington, D.C.
450 stores, restaurants and galleries light up each December for "Georgetown Glow," an event that fills the historic Northwest section of Wisconsin Avenue, making this a great destination for walking, shopping, and gallery-hopping. Be sure to visit the Smithsonian and other DC monuments and museums – check for holiday hours!
Orlando FL
If you have kids or grandkids, we don't have to tell you about the lures of Walt Disney World and their traditional Mickey's Very Merry Christmas Party or Epcot's Candlelight Processional.   Disney even manages to have "snow" in some parts of the theme park, although the weather is usually mild for the holidays, making this an ideal warm-weather destination for those who are not fans of the cold.
While you're there, get your holiday cards postmarked in Christmas, Florida – a little town near Orlando.
Traditional or Quirky Small Towns
Not into big cities? There are many charming small towns that could be a perfect destination for a simpler, more relaxed holiday. An added bonus of charter flights – most of these places don't have a huge international airport, but we can get you much closer with a private flight.
Branson, MO
The Ozark Mountain Christmas in Branson runs for the entire month of December, including lights, music, hot chocolate, a scenic Polar Express train ride, and the Dolly Parton's Dixie Stampede with regular performances. Enjoy the roller coasters in the Silver Dollar City that hosts an Old Time Christmas festival with five million holiday lights and over 1000 decorated Christmas trees.
McAdenville, North Carolina
Just outside of Charlotte, McAdenvill officially changes their name each December to Christmas Town USA. More than 600,000 people visit each year to stroll through the decorated downtown, including a fountain with music and lights, and a nearby lake that reflects the Christmas trees.   The town takes Southern hospitality seriously, with free hot chocolate and kettle corn for the first 1,000 guests each evening.
Bernville, Pennsylvania
Mrs. Claus presides over a traditional, family-friendly Christmas village that has been a local tradition since 1948. Small cottages (formerly chicken coops) show "Christmas Beneath the Sea," "Christmas in Other Lands, and other themed dioramas.
Zoar, Ohio
Visit blacksmiths, tinsmiths and local artisans celebrating Christmas as it was in the nineteenth century at the Historic Zoar Village, about 40 miles south of Akron, Ohio.   Landmarks and homes are decorated with traditional evergreen garlands. While you're here, visit Canton Ohio's Classic Car Museum with its 45 antiques, including a 1911 Model T Ford!
Elkhart Lake, Wisconsin
Modeled on the Christkindlesmarkt in Nurenburg, Germany, the Old World Christmas Market in Elkhart Lake offers art, crafts, caroling, and food – sauerbraten, schnitzel, and potato pancakes. Take a ride in a horse-drawn carriage through the woods.
Mumford, New York
Tour guides take you through the streets of the 1849 Genessee Country Village, including shops, decorations, live music, dancing and tree lighting. Local restaurants specialize in festive winter cocktails.
Ogunquit, ME
For something a little different, find one of a kind gifts in this Maine artist's colony has a Sea Festival with bonfires on the beach, and, of course, chowder!
Lewisburg, WV
The Greenbrier Hotel in Lewisburg transforms into an 18th century resort with decorations, including ribbon-tying seminars. The West Virginia Symphony plays in Lewisburg's own Carnegie Hall.
Beaufort, NC
Decorate a boat on Taylor's Creek and join the Crystal Coast Christmas Flotilla the first weekend of December.
Santa Rosa Beach, FL
Take a holiday beach-and-running vacation, highlighted by the 40-mile Winter Solstice Run along beaches lakes and forests. (Yes, there are shorter versions and relays for those not up to the 40-mile adventure!)
Myrtle Beach, SC
Visit Brookgreen Gardens and the Festival of Trees at Ripley's Aquarium.   Walk along the classic boardwalk and enjoy mustard-accented, South carolina barbecued turkey.
Williamsburg, VA
Experience winter in the colonies as with wild turkeys and traditional puddings. Learn about the English tradition of the Lord of Misrule (AKA the anti-Santa.) Local shops, galleries and restaurants take their history seriously!
Nantucket, MA
The annual Christmas Stroll is held the first weekend in December with Christmas trees, traditional gift shopping, wine tastings, ghost walks, and home tours.
Naples, FL
Third Street South manages "snow" showers in Florida during Thanksgiving week – to accent window displays at one-of-a kind shops in the Old Naples Historic District. A Tuba Concert on Sugden avenue features tubas, euphoniums and baritones.
Newport, RI
Only white lights are encouraged on homes and restaurants, creating an old-fashioned harmony in Newport. Take the Mansions of Newport Tour takes you on a stroll through Gilded Age icons like The Breakers, the Elms, and the Marbles, decked out with trees, fine china, and decorations. Enjoy Newport's famous restaurants, which feature prix-fixe menus during the holidays.
Annapolis, MD
Don't miss the Lights on the Bay in Sandy Point State Park. Handel's Messiah is performed by the Naval Academy Glee Club, and tailgate for the Military Bowl in late December at the US Navy-Marine Corps Memorial Stadium.
Cape May, NJ
If you've ever wanted a Dickens-style Christmas, this Victorian town, especially the walkable Washington Street Mall is the place to go. During Hospitality Nights in December, merchants hand out treats. The Grand Lawn features a train, concerts, gingerbread decorating, and breakfast or brunch with Santa.
Snow and Skiing
There's nothing like winter in the mountains! Christmas and snow naturally go together. Your most adventurous family members can shred the powdery slopes (or take a lesson!) while the less athletic types can enjoy hot chocolate by the fire.
Ogden, Utah
Ogden could be included in the Small Town section, or the Snow and Skiing section (we debated this.) Snow and skiing won, since world-class ski resorts are easily accessible from your hotel. Ogden is a great railway hub, where the East and West were joined with the driving of the legendary Golden Spike. The museum at Union Station includes trains, firearms and automobiles from the period.   Downtown Ogden boasts a Christmas Village with miniature cottages modeled after Santa's North Pole Village. Each of the 59 elf-sized cottages has its own theme including The Elf Workshop, The Grinch, and Santa's Castle—a cottage where children can visit with Santa himself. Rides on the free Polar Express Train are a favorite, as the locomotive passes through a glow-in-the-dark tunnel painted with holiday flourishes.
Aspen, CO
Walk down Cooper Avenue for cookie exchanges, public s'mores roasts, and elves. The lobby of the Hotel Jerome regularly hosts carolers, while the Ajax Tavern and Element 47 at the Little Nell both serve fabulous holiday meals, with indulgences like venison loin with huckleberries, black truffles, and chestnut-and-caramel profiteroles.
Breckenridge, CO
On the first weekend in December, the traditional lighting of the town's official tree coincides with the "Running of the Santas," in which hundreds of red-clad, supersize elves take to the streets; on December 31, there's a torchlight parade on skis down the mountain, followed by fireworks.
Park City, UT
See the Electric Parade in late November, in which locals light up their trucks, cars, and bicycles and crank up the holiday tunes as they parade down Main Street. On Christmas Eve, Saint Nick spends the day skiing the slopes and then leads a torchlight parade down the PayDay trail. Robert Redford's famous Sundance Film Festival offers star-watching and indie films. The Montage Resort in Deer Valley hosts a life-size gingerbread house (nearly 13 feet tall, made with 11,000 cookies.)
Ready to Go?
SSC would love to help with your holiday plans. Give us a call at 866-242-3383 and let's get started making your new tradition a reality!
Sources
Many thanks to Trip Savvy, Travel & Leisure, & Fodors for the inspiration & information!