Business air travel geographically expands business markets within a comfortable lifestyle. Aviation business growth over the next decade is forecast to range from 1 to 12%. Unfortunately, the 1% being in North America and the more healthy paced 12% in Latin America and Asia. Although thi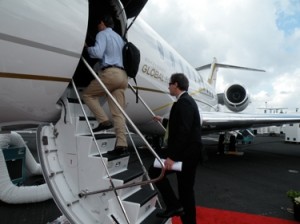 s shows that operators are remaining cautious about a slow recovery, it also implies maintaining over decreasing operations.
Safety, service, and convenience bundled, make up the commodity and set the demand for business aircraft travel. The operators that are key performers in these areas, coupled with well managed business practices are positioned to lead the pack.
More comfortable cabin jets are expected to make up over half the projected growth and over 80% of the money spent on business aircraft.
Special Services Corporation (SSC), acronym, Safety, Service, Convenience, certainly aspires to continue to lead in safety and service, while providing added convenience to the lifestyle of the aviation consumer.
SSC experience offers you to experience our difference.
Sincerely,
Jim Alexander, CEO