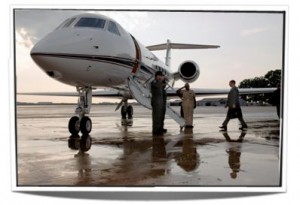 The last few years have been full of political rhetoric aimed in many directions. It seems that many of our leaders and our media have lost their focus on the important issues; instead, they dwell on distractions that create more distractions. Every day we are faced with reports that touch our heart, strain our emotions and inflame our sensibilities.
What are the important issues and what do they have to do with advantage of business aircraft? Recovering our floundering economy seems to be the most important challenge our nation has faced in many years. If the economy is doing well, folks are employed – buying, saving, paying taxes and preparing for their future. Currently, we are seeing high unemployment, high taxes, and a currency that is being de-valued each day – all indicators of a failing economy. Unfortunately, our political leaders and the media are stuck on trying to engineer solutions to social problems that would essentially go away if the economy was robust.
By Steve Wiley
Again, what does this have to do with business aircraft? The business aircraft is often mis-identified as being a lavish and exorbitant vehicle used by movie stars and the rich and famous. This the the picture the media and many politicians would like you to see and be offended by. Unfortunately, it is an image that was created in Hollywood and could not be further from the truth.
The advantages of flying on a business aircraft are many and the prudent utilization of this business tool can create exponential results. The business aircraft can be very nicely appointed, and appear luxurious – but that is to help maintain its value. The advantage is in the utilization of the aircraft as it was designed – to travel conveniently and efficiently – and more economically than other forms of transportation.
The business aircraft can easily utilize the smaller general aviation airports around our still great country, thus avoiding the congestion of the busy commercial airports found in big cities. Better yet, the business aircraft will utilize the general aviation facilities at these airports which usually provide very easy access to the plane and free parking. Your bags are kept close by and
never lost or put on other planes heading to the wrong destination. Your schedule is the plane's schedule and you'll never be left behind. You get to pick your traveling companions, meals, and snacks.
A key advantage of the business aircraft is the privacy it provides allowing for very confidential corporate travel. You can hold private meetings while in flight and arrive at your next destination prepared and ready for work.
The business aircraft, when used well, has the ability to save executives many hours of productivity, and helps their business prosper and grow. This helps boost our economy, reduces unemployment and adds to the tax base that our communities depend on to provide the services we desire. The business aircraft could just be the solution to our problems.