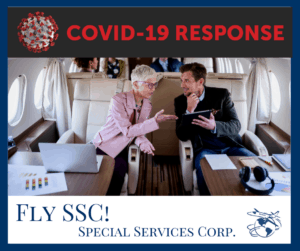 The health and safety of our passengers and team members is paramount for us, and we are taking the Covid-19 threat seriously.  We comply with the cleaning and disinfecting guidelines from the Centers for Disease Control and World Health Organization.
We have increased the intensity and frequency of cleaning and sanitizing all our aircraft.
In addition, we provide a kit that includes hand sanitizer, sanitizing wipes, gloves, and additional cleaning supplies for the comfort and convenience of our passengers.
The health of our crew and employees is being closely monitored and protocols are in place to protect everyone.
We screen clients prior to travel to ensure the safety of all crew and passengers.
As new guidelines and best practices emerge and better cleaning products and protocols become available, we will implement them to ensure that our teams and guests are protected.  We will continue to follow all local regulations for each destination.
We understand that there is currently a lot of confusion and anxiety about traveling.  Utilizing
private aircraft
is one of the many ways to protect yourself and your family.  We know that many people still need to travel and we are here to help.
Call us today at 1-866-242-3383 and let's put a plan together with your safety and confidence as the first priority.